Intelligently adjusts with your local daylight
Adjusts colour temperature and brightness with your natural light – providing the right light for the time of day.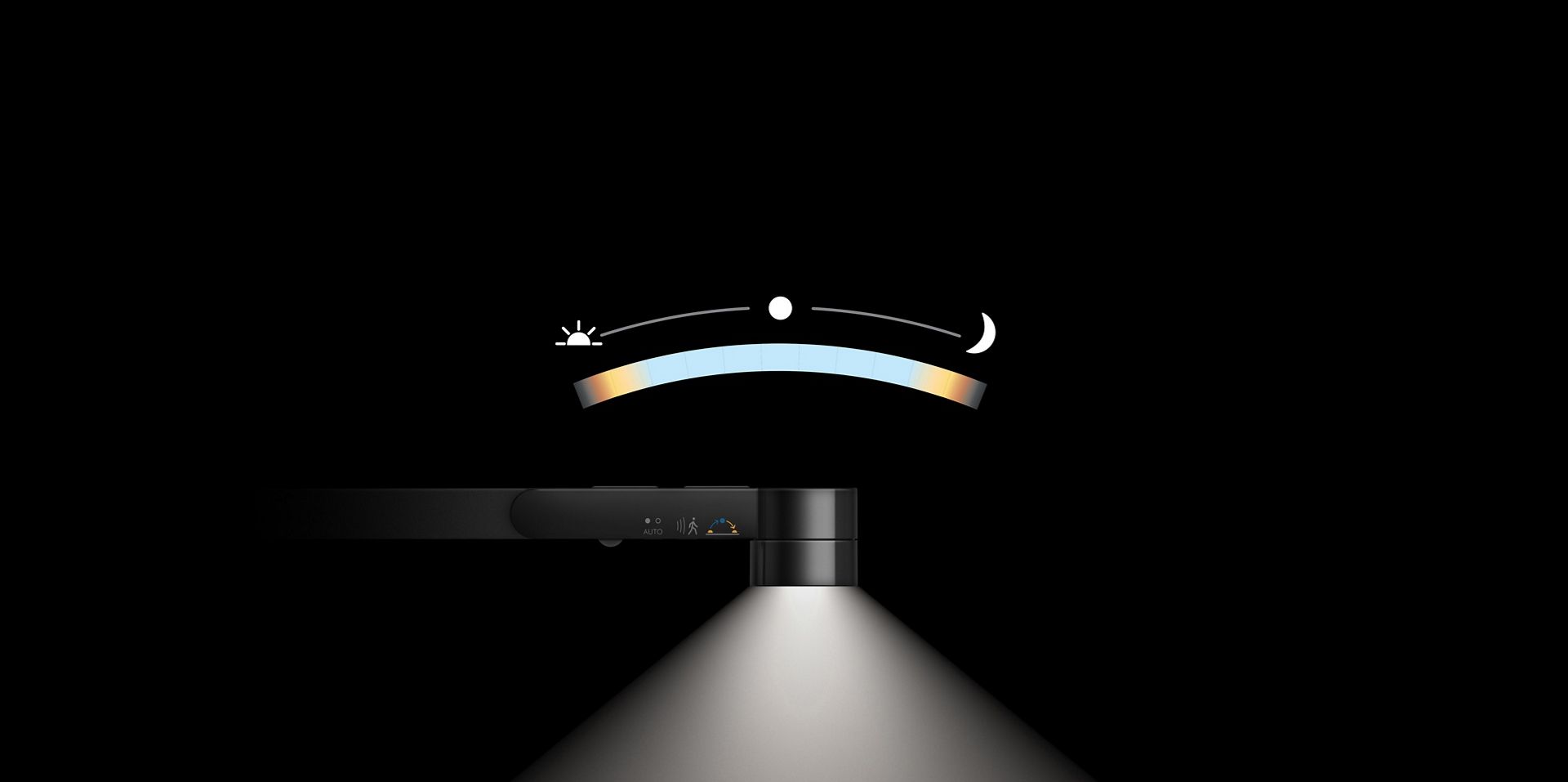 Dyson daylight algorithm
Daylight constantly changes – and it varies in different locations. We developed a unique algorithm to calculate the colour temperature and brightness of daylight. Anywhere in the world, at any time of day.
We can spend up to 90% of our time indoors.2 Yet poor lighting can affect our eyes and even our wellbeing.3
Light quality that lasts decades
The Lightcycle™ task light uses a cooling system often found in satellites to efficiently cool the LEDs. Protecting light quality for 60 years.1

Intelligent optical head.Turns data into dynamic light.
Intelligently-controlled optical driver adjusts three warm and three cool LEDs, precisely adjusting colour temperature and brightness to suit your age, task and time of day.

Helps improve visual performance.2 For work and study.

More than 1000 lux brightness, combined with glare protection and low optical flicker 4 – surpasses recommended levels for desk work.2

Regulates blue light, around the clock

Unlike most lights that just stay the same, the Lightcycle™ task light adjusts colour temperature and brightness throughout the day. So it regulates blue light in relation to your local daylight.

Auto-corrects brightness for your age

As we age, our eye muscles weaken and the lenses harden – so we need up to four times more light3. The Lightcycle™ task light automatically gives you the recommended brightness for your age.
Intelligently adjusts to your life
Personalised light is made possible by the Dyson Link app.6 It continually communicates with the light to adjust for your location and daily routine.

Pre-set task modes. Choose the right light for what you're doing.
Boost mode

For tasks that require extra focus, Boost provides bursts of brighter, cooler light.

Precision mode

Helps improve visual acuity2 by emitting a pool of high-intensity light. A CRI over 90 means colours are displayed very close to daylight quality.

Study mode

Surpasses the recommended light levels for studying2 and adjusts its colour temperature in relation to your local daylight.

Relax mode

Provides a warm, relaxing colour temperature with low intensity which is still bright enough for reading.
The right light, at your fingertips
The Lightcycle™ task light has been engineered for flexibility and simplicity, with intuitive manual controls.
3 Axis Glide™ motion

A gentle touch of the arm precisely positions your light – vertically, horizontally, and through 360°. With no springs or pivots to wear out, there's no drooping.

Slide-touch controls

Slide-touch controls let you define your personal brightness and colour temperature.
FAQs
Yes, but the light cannot track your local daylight until you connect to the app.
No, the copper heat pipe is cool enough to touch at all times.
No, the LEDs are designed to last for decades and can't be replaced.1
Dyson Lightcycle™
For desks or bedside tables.
Intelligent local daylight tracking.
Light quality that lasts decades.
Designed to improve visual acuity.
1LED-life calculation is based on L70 measurement according to IEC 62717, with an estimation of 8 hours' usage per day. Real-life results may vary.
2Klepeis NE, Nelson WC, Ott WR, et al. (2001). The National Human Activity Pattern Survey (NHAPS): a resource for assessing exposure to environmental pollutants. J Expo Anal Environ Epidemiol. 11:231-252.
3As per Illuminating Engineering Society (IES) The Lighting Handbook, Tenth Edition (July 30, 2011).
4Low light and flicker: As per Illuminating Engineering Society (IES) The Lighting Handbook, Tenth Edition (July 30, 2011).
Glare: Sheedy JE, Hayes J and Engle J (2003) Is All Asthenopia the Same? Optometry and Vision Science 80 (11): 732-739.
5Tested at full brightness by TÜV SÜD PSB Pte Ltd according to IEEE 1789 – 2015 - Recommended Practices for Modulating Current in High-Brightness LEDs for Mitigating Health Risks to Viewers.
6Requires device to run app, Wi-Fi or mobile data, Bluetooth 4.0 support, and iOS version 10 or Android version 5 (or above). Standard data and messaging rates may apply.