Automatically cleans a whole room properly, capturing 99.95% of harmful pollutants. 1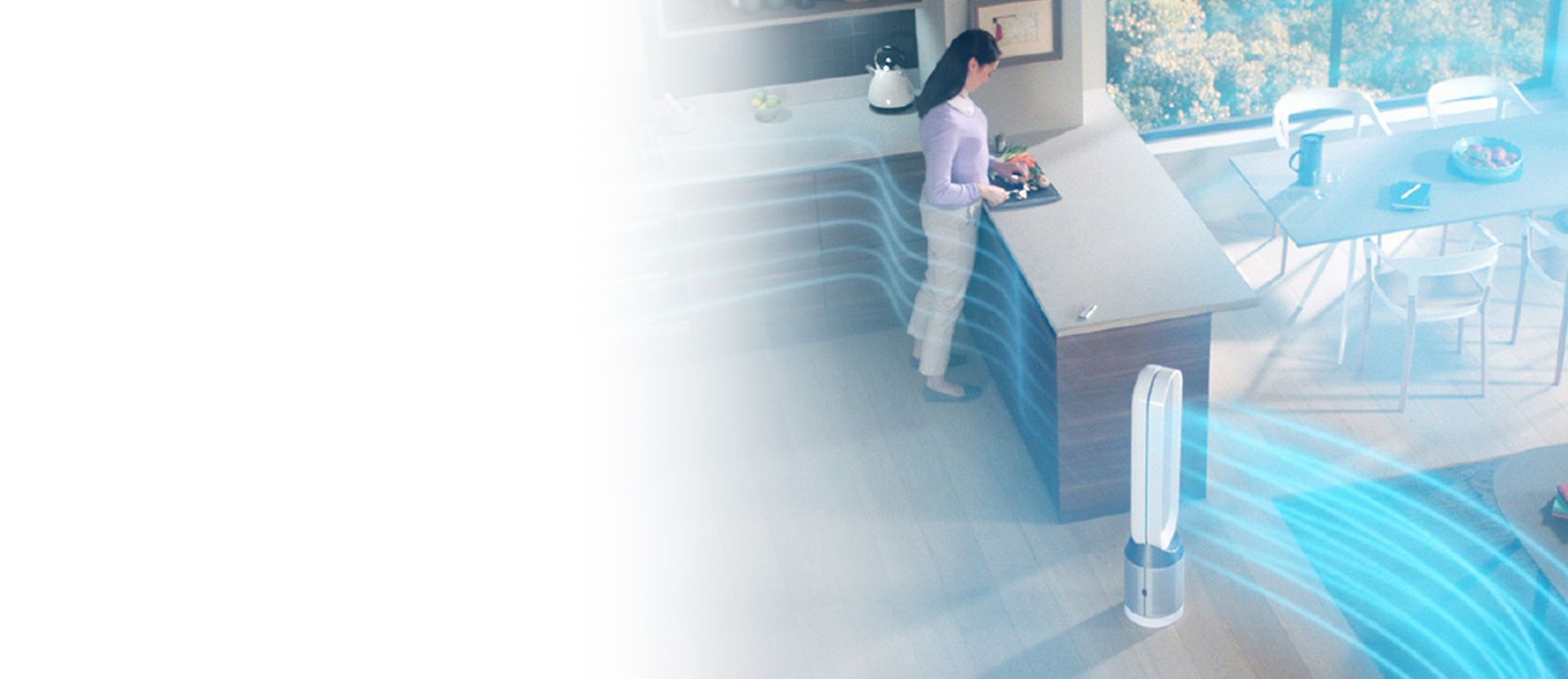 Pollutants can build up inside your home. But you can't always see them.
In fact, indoor air quality can be up to 5x worse than outdoor air quality.2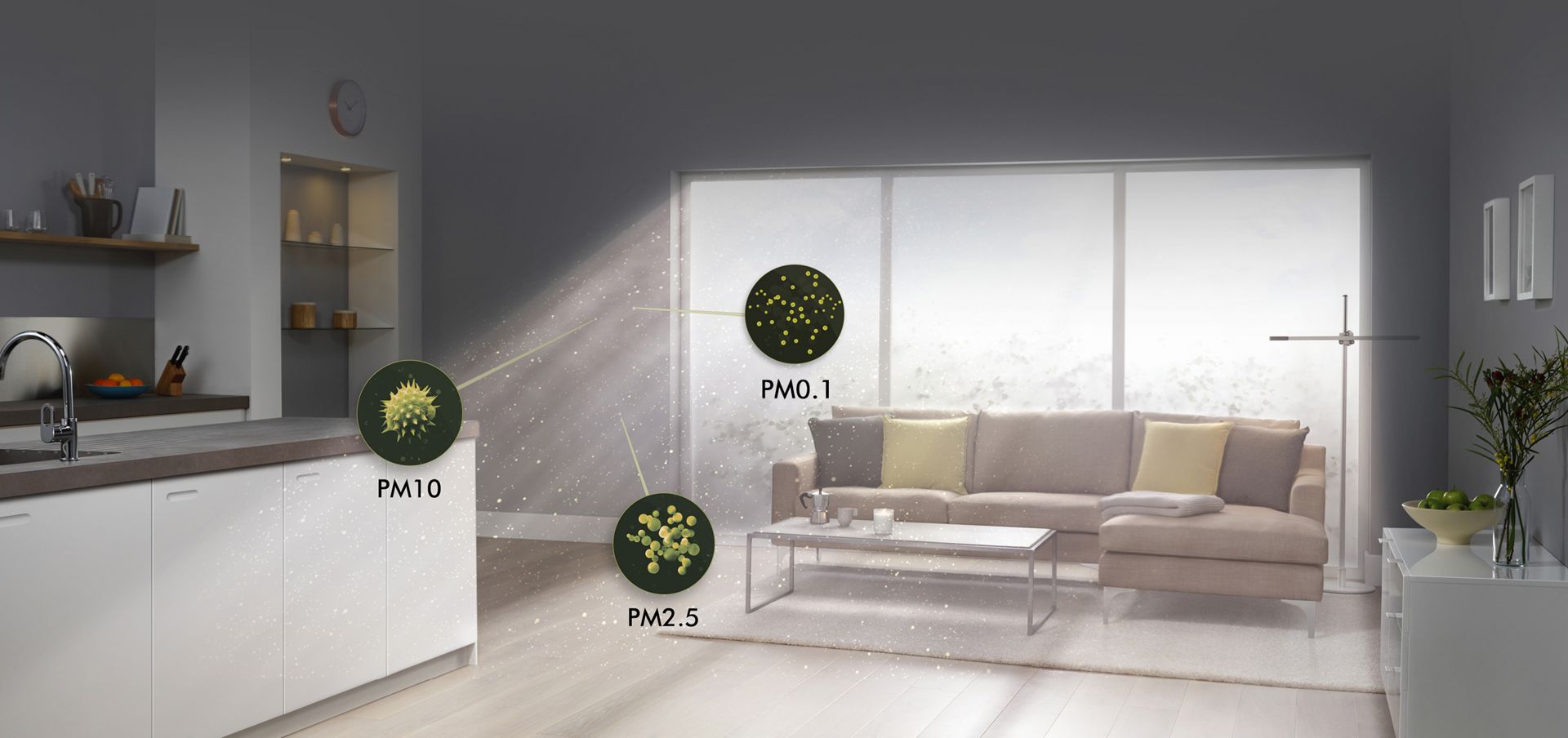 Potentially harmful particles and gases can be found throughout the home. These include:
Discover what's inside your home
Potentially harmful particles and gases can be found throughout the home. These include:
PM0.1

Ultrafine particles and viruses

PM2.5

Industrial emissions

PM5.0

Bacteria and mould

PM10

Pollen and allergens from plants and flowers

Formaldehyde

Carpets, rugs and flooring

Odours

Household fumes and cooking

Benzene and VOCs

Cleaning products and scented candles

Nitrogen Dioxide

Gas stoves and car exhausts
Automatically senses particles and gases
Using a unique algorithm, the Dyson Pure Cool™ air purifier processes the input from three sensors to continually monitor your room's air quality.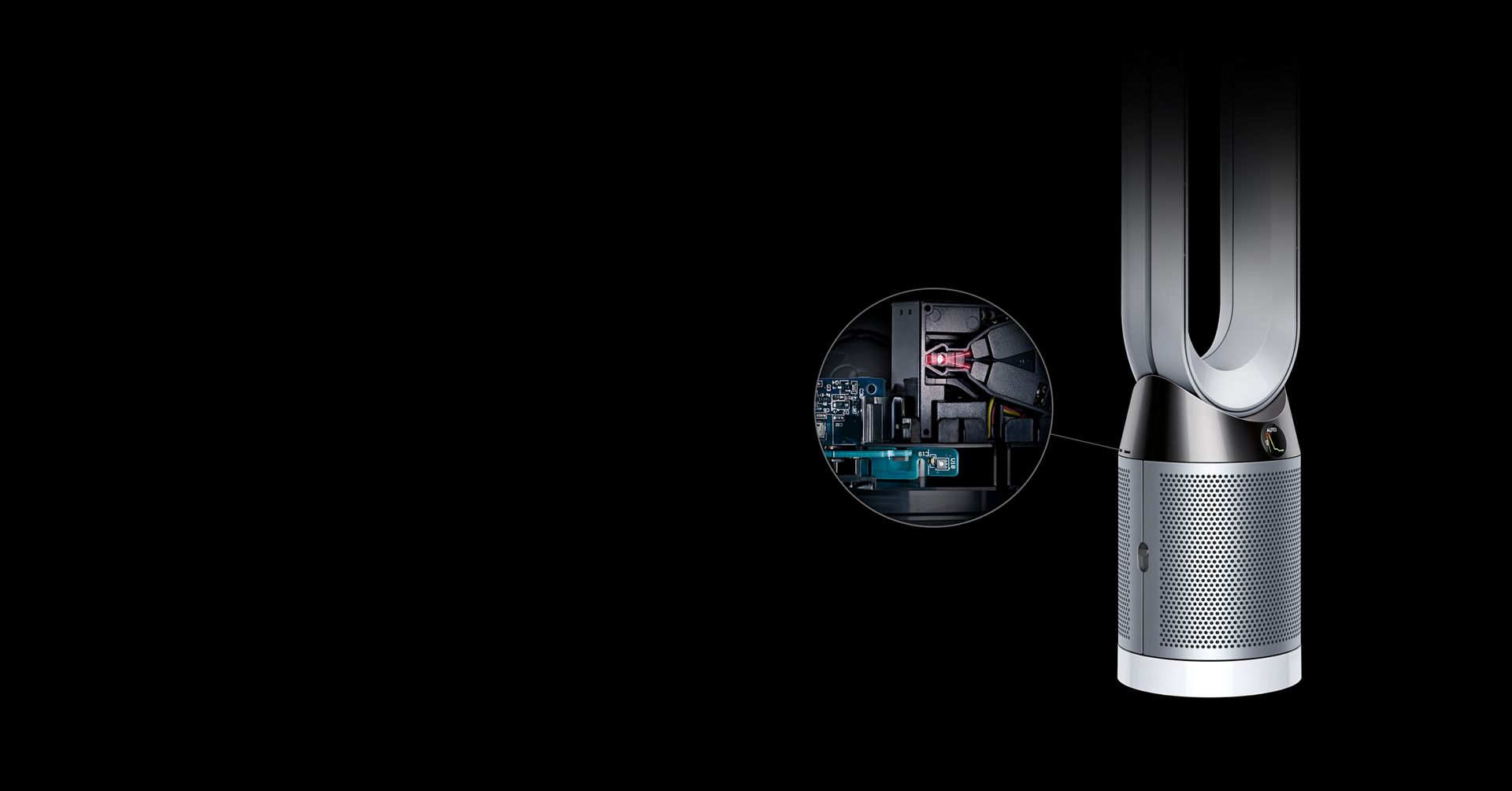 Learn more about our sensor technology
Particulate Sensor

Uses laser measurement for constant particulate concentration analysis.

Gas sensor

Detects Volatile Organic compounds (VOCs) and oxidising gases such as NO2.

Humidity and temperature sensor

Constantly monitors the relative humidity and temperature levels within the room.
Then diagnoses and reports them – in real time
The built-in LCD screen shows your current Indoor Air Quality Index (AQI), and which gases and particles are present in the room, right now.3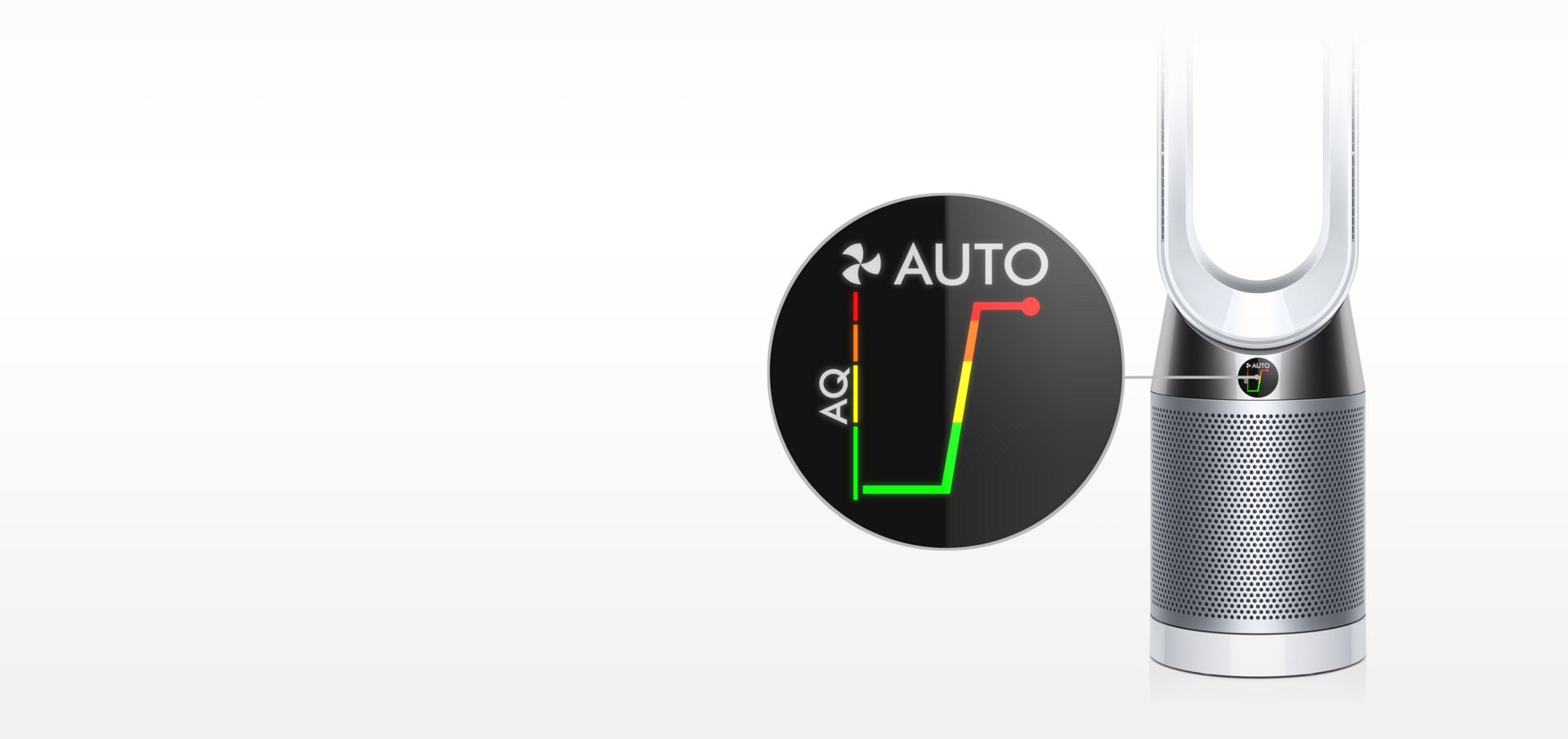 360° sealed filtration system removes gases and particulates
Combines an activated carbon filter and a glass HEPA filter that captures 99.95% of particle pollutants as small as 0.1 microns.1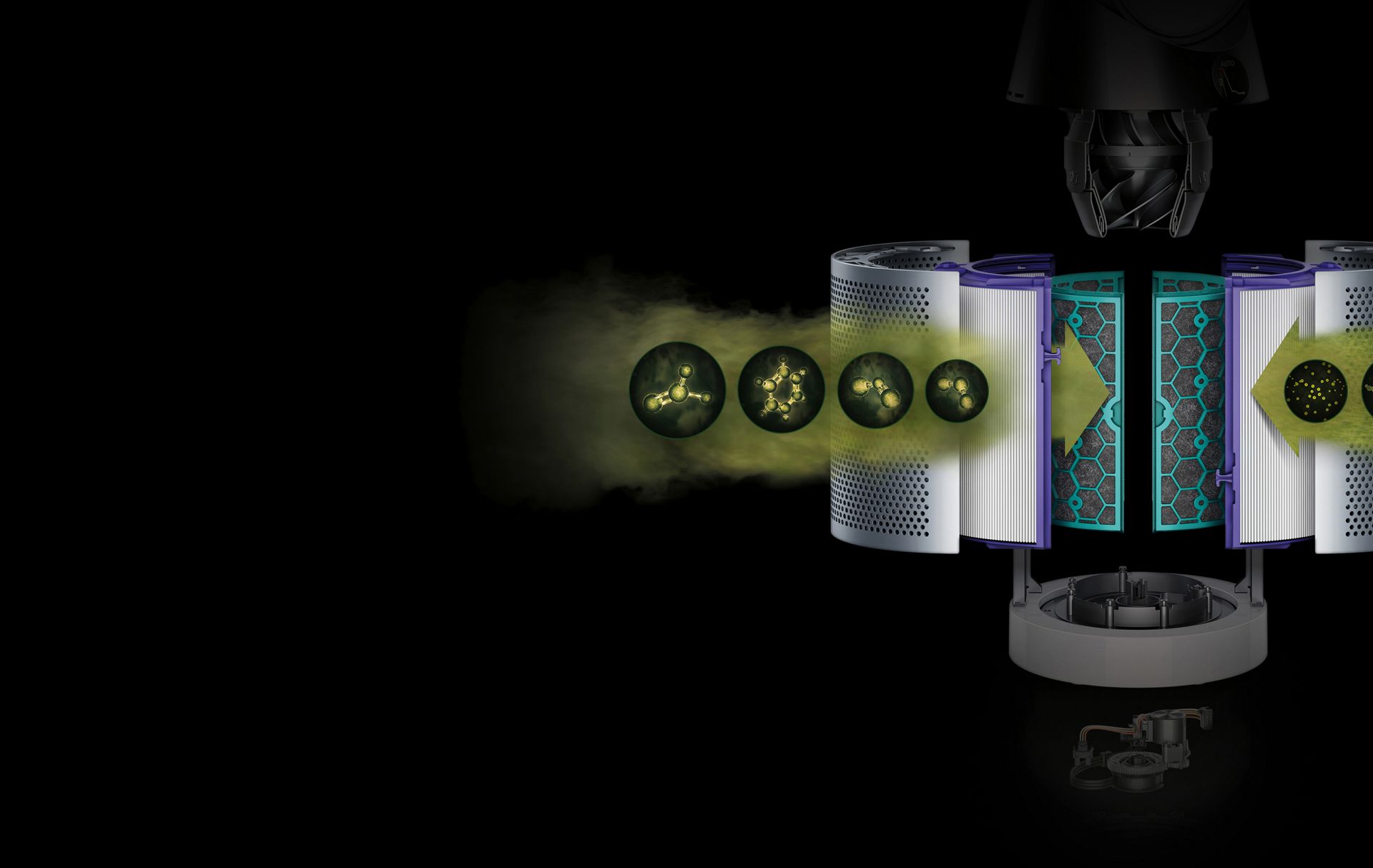 Glass HEPA filter
9 metres of borosilicate microfibres, pleated over 200 times, capture 99.95% of harmful ultrafine particles.1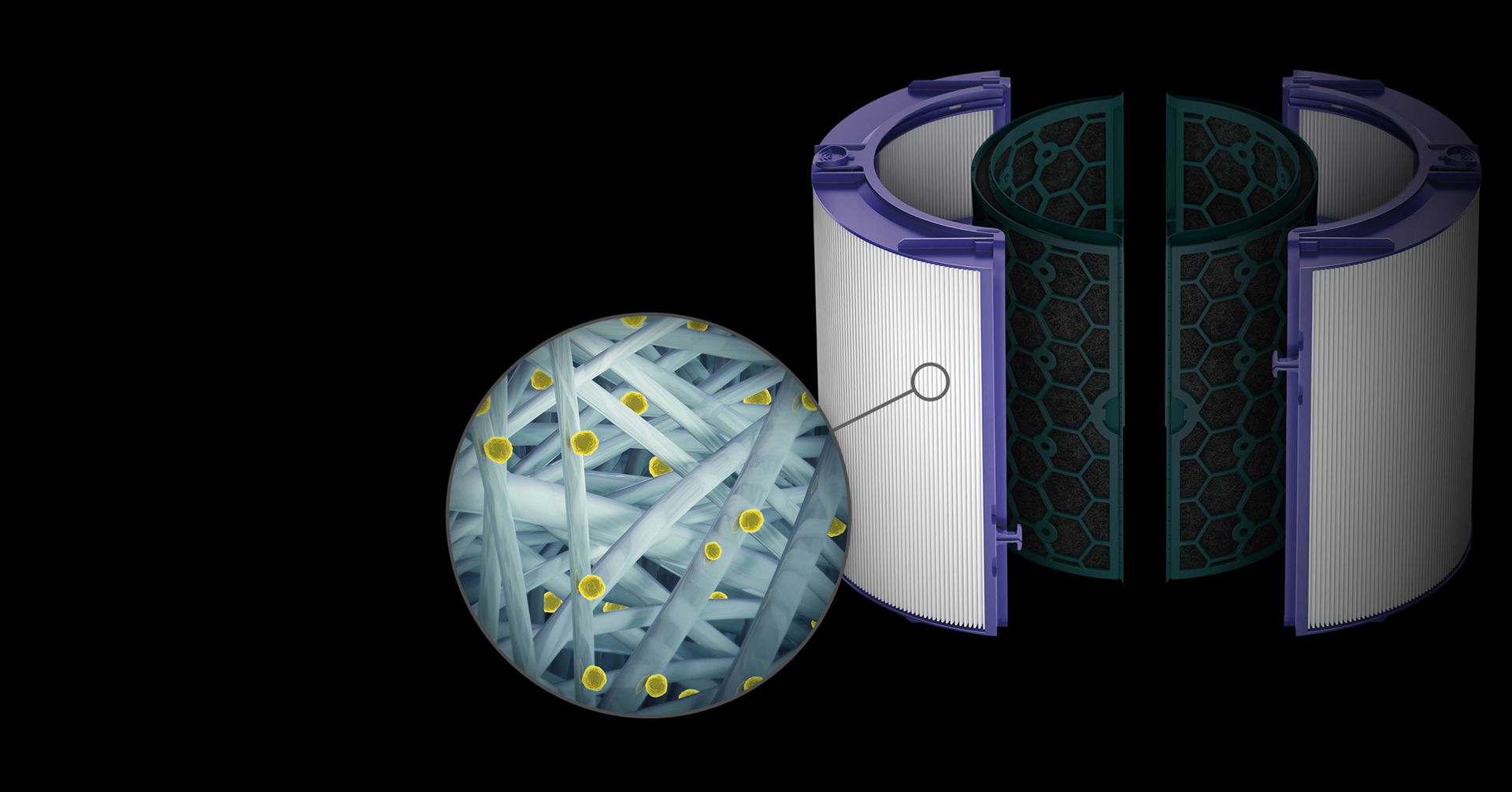 Activated carbon filter
Tris-impregnated carbon granules capture gases such as formaldehyde, benzene and nitrogen dioxide.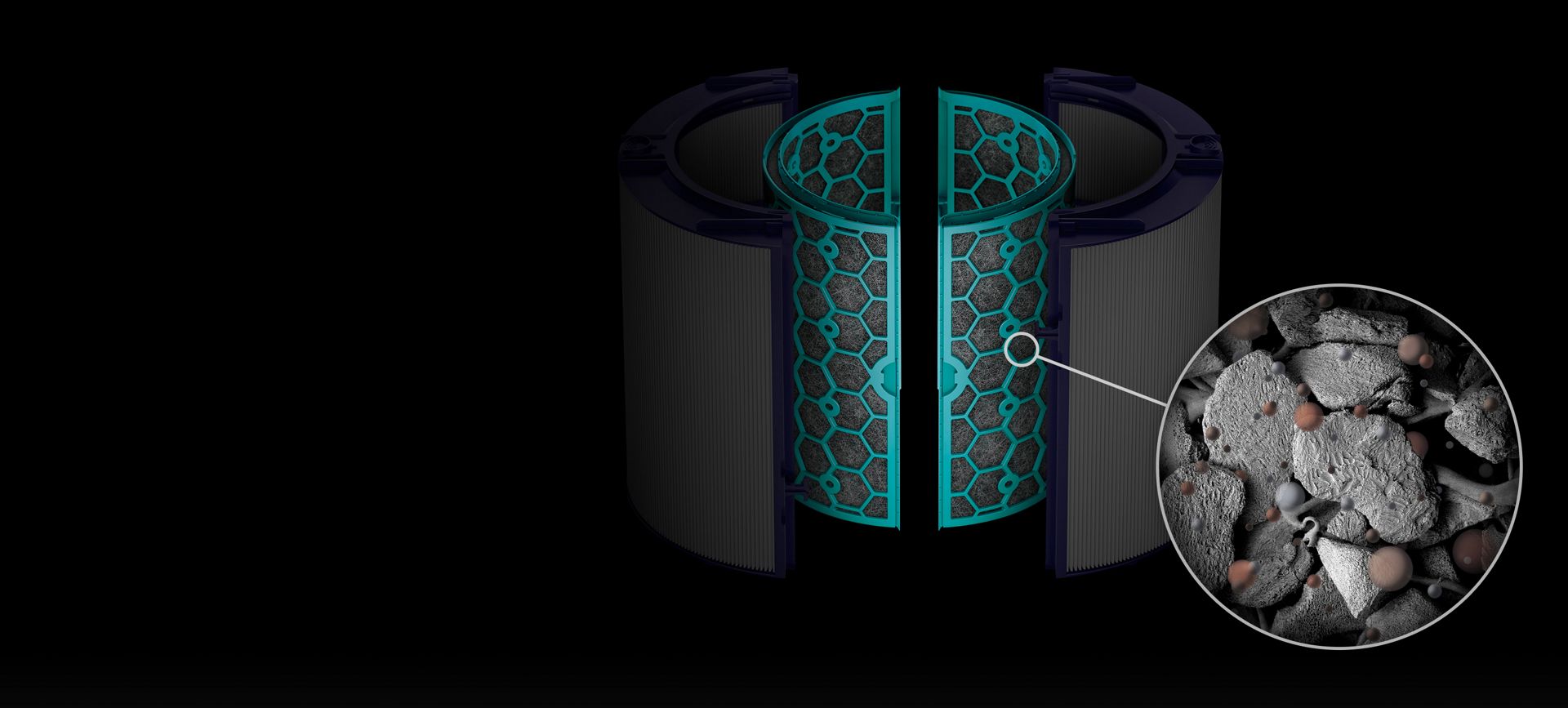 Purifies every corner of the room
Air Multiplier™ technology projects over 290 litres of air per second, generating smooth yet powerful airflow. This combines with 350° oscillation to project and circulate purified air throughout the entire room.4
Intelligently control and monitor your air quality, with the Dyson Link app
Control your Dyson Pure Cool™ air purifier fan and quickly monitor air quality indoors and out – direct from your device. Schedule, remote control and personalise your machine.5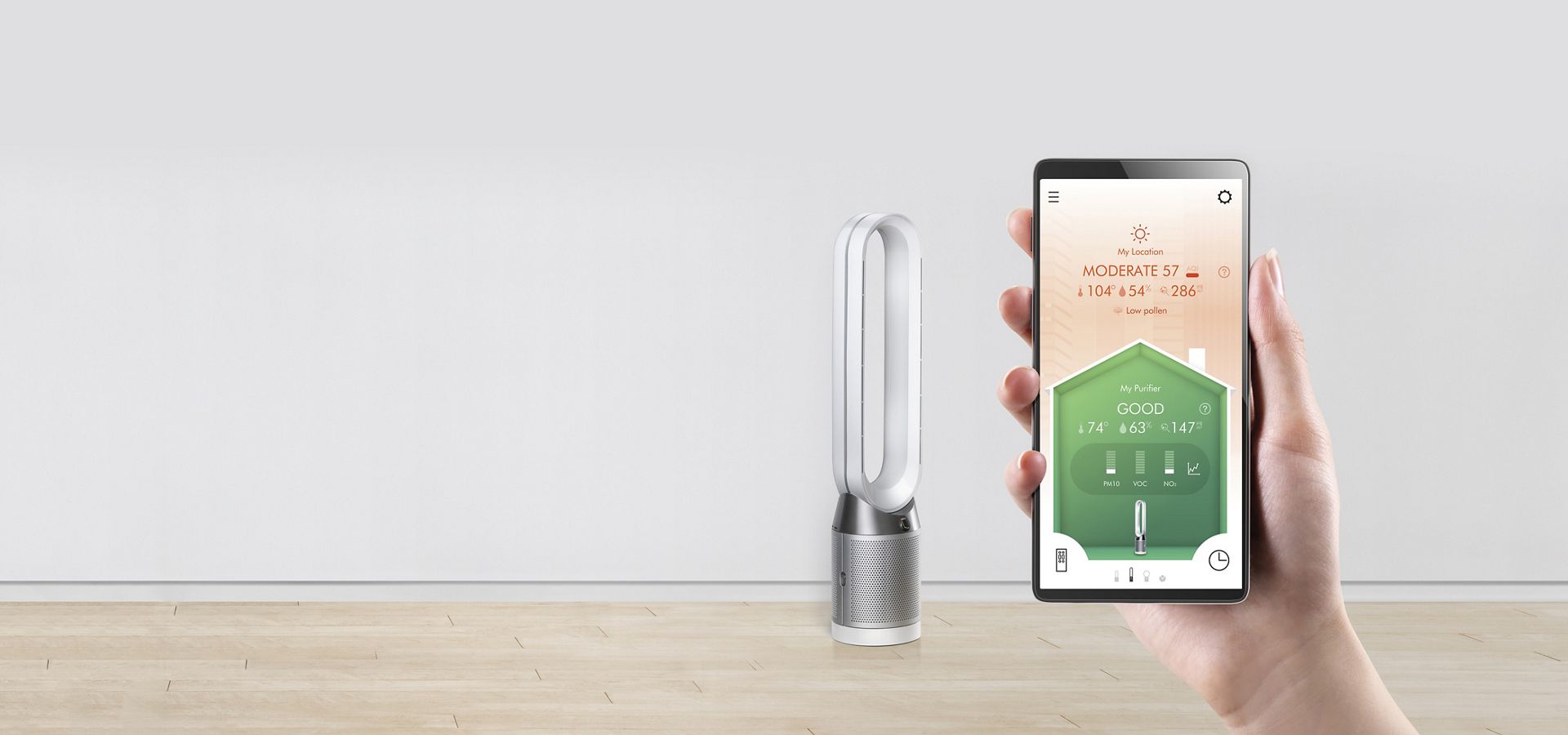 Step 2

Hold your device next to your machine's display. This will allow your machine to detect your mobile device.

Step 3

Press the power button on your machine to activate the pairing process. Then follow the on-screen instructions to complete connection set-up.
Cools

Purifies all year round. Cools you when you need it.

Draught-free diffused mode

Purifies without cooling you.

Night-time mode

Monitors and purifies using its quietest settings, with a dimmed display.

Sleep timer

Dyson Pure Cool™ fans can be programmed to turn off after pre-set intervals, from 15 minutes to 9 hours.

Remote control

Curved and magnetised to store neatly on the top of the machine.

Certified asthma and allergy friendly™

Dyson Pure Cool™ is certified asthma and allergy friendly™ by Allergy Standards Limited
¹Tested to Dyson internal test method TM-003711 in a 27m² room. 'Harmful' / 'Ultrafine' pollutants refers to airborne particles as small as 0.1 microns (tested to EN1822).
2Hulin et al, Respiratory Health and Indoor air pollutants based on quantitative exposure assessments, European Respiratory Journal, Oct 2012.
3PM2.5, PM10, VOC, NO2
4In maximum setting. Tested to Dyson internal test method TM-003711 in a 27m² room and DTM801.
5Standard data and messaging rates may apply. Requires Wi-Fi and app-enabled device. Requires iOS version 10 or above, or Android version 5 or above. Your mobile device must have Bluetooth 4.0 support.